Do The Math
Kelly Nyks, Jared P. Scott
US, 2013, 50 min
Co-präsentiert von
oikos Graz
Filmgespräch mit
Tine Langkamp (350.org) - live via Videostream
Tuesday May 27th - 20:45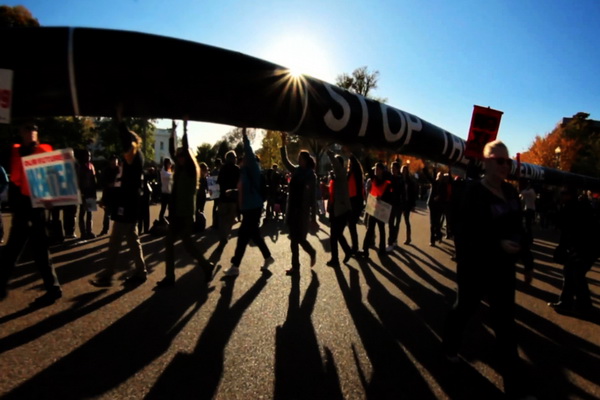 The fossil fuel industry is killing us.
They have five times the amount of coal, gas and oil that is safe to burn - and they are planning on burning it all. Left to their own devices, they'll push us past the brink of cataclysmic climate disaster - life as we know it will be irrevocably altered forever. Unless we rise up and fight back.
Do The Math follows renowned climate activist Bill McKibben and 350.org as they work with a rising global movement in a David-vs-Goliath fight to change the terrifying math of the climate crisis. This growing groundswell of climate activists is going after the fossil fuel industry directly, energizing a movement like the ones that overturned the great immoral institutions of the past century, such as Apartheid in South Africa. Putting his body on the line to stop the Keystone XL Pipeline and leading universities and institutions to divest in the corporate polluters hellbent on burning fossil fuels no matter the cost, McKibben is uniting the growing global majority that view the climate crisis as the most important moral issue of the day.
The film also features a veritable who's who of the climate movement including Naomi Klein (Author, The Shock Doctrine), James Hansen (Director, NASA's Goddard Institute for Space Studies), Bobby Kennedy Jr. (President, Waterkeeper Alliance), Majora Carter (Founder, Sustainable South Bronx), Michael Brune (Executive Director, Sierra Club), Van Jones (CNN Correspondent & Author, The Green Collar Economy), and many more.